Home Run Stocks Newsletter
Dear Fellow Investor,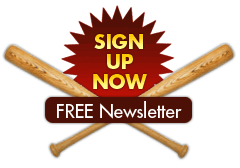 I've been a baseball fan all my life and a trader going on fourteen years now. There's one important commonality I've realized about playing baseball and playing the market:
Consistently hitting home runs is much more than just a string of luck – it takes skill and lots of hard work!
Believe me, I've made plenty of mistakes swinging at pitches I shouldn't have. After years of market experience and way too many misses, I eventually established a strong set of criteria to determine the difference between game-winning plays and what's likely to be a strikeout. With the Home Run Stocks Newsletter, my subscribers can avoid the mistakes I've made and depend on my experience, hard work and diligence to identify home run investment opportunities.
Now's the time to get in on some the best ground floor opportunities in the market and build a valuable position ahead of the big money crowd – all without spending a fortune right off the bat. Experience has taught me that some of the greatest money makers have emerged from the small-cap field. I look for and identify companies with big ideas, innovative products, disruptive technologies and explosive home run power. Every Home Run Pick meets my strict criteria and has the potential to be at least a triple before ever being released to my subscribers.
What sets this newsletter apart from others is the fact that Home Run Stocks doesn't swing at every pitch and doesn't chase after the hot stock of the day. I alert subscribers to companies at the plate with bases loaded only after careful consideration and diligence. I also suggest other trades for you to make quick profits, some earnings plays, as well as other trading strategies that could make you a lot of money.
I've got my eye on a couple of stocks right now that could be out of the park. One of these could be my biggest winner ever!
Subscribe now to get my next Home Run Pick. You know I can't guarantee that it'll be a home run, but I would never recommend it unless I believed it would be at least a triple. I'd rather pass on a few pitches and wait for the right one. That's why I only make a few Home Run Picks a year. I never front run my Home Run Picks and only buy after releasing to my subscribers.
What's the catch, you ask? There is none. Like playing baseball, I do it for the love of the game.
All I ask is that if you're happy with the money you make, tell your friends to sign up. There's no cost, no obligation and you can opt out any time. You don't even have to buy my next pick! Just sign up and watch it first then find out for yourself if it's an All Star!
P.S. I do not give out, rent or sell my subscriber lineup, for any reason, ever.